Mabwell (688062.SH), an innovative biopharmaceutical company with the layout of whole industry chain, announced that its clinical trial application for an independently developed Nectin-4 targeted antibody drug conjugate (ADC) (R&D code: 9MW2821) used in patients with solid tumors was formally approved by the United States Food and Drug Administration (FDA). 9MW2821 is the China's first Nectin-4 targeted drug investigated in clinical trials which has been studied in Phase I clinical trials in the hospitals of China.
Mabwell's 9MW2821 is a Nectin-4 targeted ADC for the treatment of solid tumors, which is developed by the world-class ADC development platform and the automated high-throughput antibody discovery platform of Mabwell. This drug product can perform site-specific modification with Mabwell's linkers produced using the ADC coupling technology with independent intellectual property rights and an optimized ADC coupling process. 9MW2821 can bind to Nectin-4 on the surface of tumor cells, enter tumor cells, and directionally release cytotoxins, thereby achieving selective killing of tumors.
In addition, 9MW2821 has advantages of homogeneous components, high purity and ease of industrialization. Results from nonclinical studies showed that this drug candidate had favorable tumor inhibition effects in a variety of animal tumor models. Furthermore, its safety in cynomolgus monkeys and rats indicated a superior safety margin. At present, several clinical studies have been conducted simultaneously in China.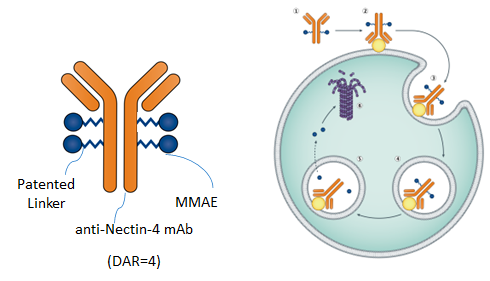 Image Source: The biology and rationale of targeting nectin-4 in urothelial carcinoma. Nature reviews Urology 2021
Dr. Liu Datao, co-founder and CEO of Mabwell, said: "The R&D progress of 9MW2821 ranks in the forefront among ADCs with the same target in the world, which reflects our strength in the development of innovative drugs. By virtue of experienced team and strong R&D strength in the industry, Mabwell has established several leading international R&D platforms, including ADC development platforms. 9MW2821 is the first anti-Nectin-4 ADC drug in China with broad application prospect in the treatment of solid tumors. In recent years, ADCs have gradually become a hot spot of innovative drugs in China because of their characteristics of selective killing of tumor cells. Mabwell is committed to the development of biologically innovative drugs with clinically differentiated values to address the unmet clinical needs of patients worldwide."