Automatic High-throughput Hybridoma Antibody Molecular Discovery Platform
Mabwell has built an automatic high-throughput hybridoma antibody molecular discovery platform, which is equipped with international advanced equipment, has an independently integrated workstation system, and is combined with a variety of animal immune technologies, efficient and stable hybridoma electrofusion technology, serum-free hybridoma suspension culture technology, real-world flow screening technology and many other underlying technologies. Meanwhile, in the antibody engineering transformation optimization system composed of computer-aided design and various display technologies, the platform adds physical and chemical stability indicators such as antibody expression characteristics, molecular binding epitope and hydrophobicity to ensure that the obtained innovative molecules meet the needs of industrialization. In addition, the platform also has a unique affinity mature transformation technology. On the basis of maintaining the activity of antibody molecules, it can greatly improve the binding affinity of antibody molecules, effectively improving the probability of druggability of innovative molecules.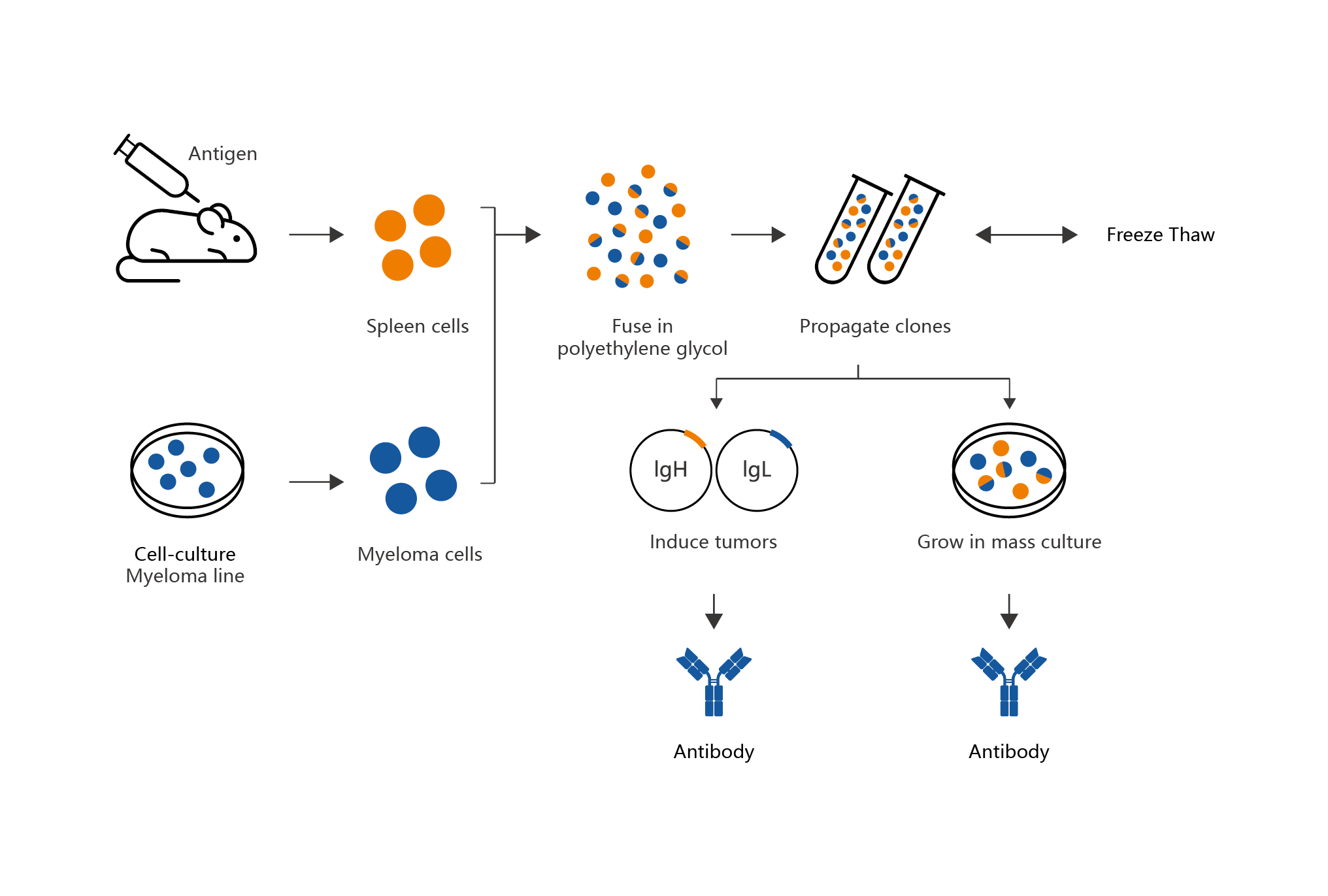 Advantages:
1) The target development scope is wider and the immune success rate is improved from the source.

2) Highly efficient, stable and reproducible hybridoma electrofusion technique, increasing the hybridoma screening abundance, and being conducive to obtaining candidate antibody molecules.

3) Workflow integrating manipulator and high-throughput antibody sorting equipment.

4) Serum free hybridoma suspension culture significantly accelerated the cloning and screening and reduce the incidence of false positive.

5) Antibody multi property evaluation system for cell stereoepitope level.
Single B Cell Screening Platform
Mabwell's high efficiency B lymphocyte screening platform is based on the direct separation of antigen-specific B lymphocytes from the spleen of immunized animals and human peripheral blood, and the antigen-specific B lymphocytes were enriched and the primary B lymphocytes were cloned and expanded by using the proprietary technology of efficient panning and clonal amplification. The use of efficient panning technology has achieved the screening of one hundred thousand B lymphocytes that can specifically bind to antigen from one hundred million B lymphocytes, the positive rate of secreted antibody binding to antigen is more than 90%, which significantly improves the discovery rate of high affinity antibody molecules, reduces the loss of positive B lymphocytes and improves the abundance of candidate antibodies in the process of panning. The high affinity antibody gene that is difficult to obtain by conventional cell fusion can be obtained by using the high-efficiency B lymphocyte screening technology, thus, better candidate antibody molecules are obtained, which enriches the technical means of new antibody molecule discovery.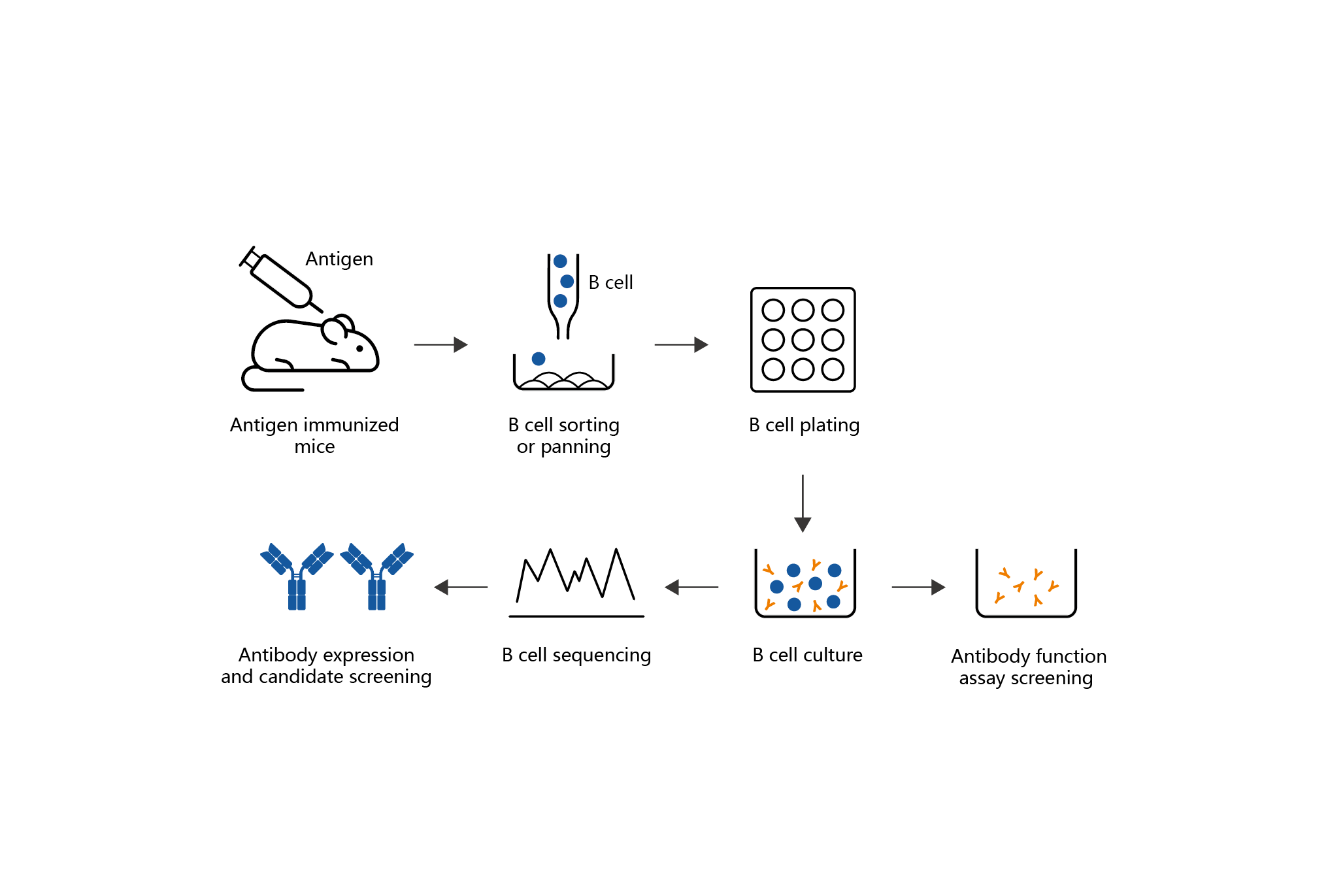 Advantages:
1) The positive rate of antigen-specific B lymphocytes was significantly increased.

2) Naturally stable antibody sequences can be obtained by screening.

3) The antibody molecular screening process has high fidelity, and the operating samples can be frozen for a long time.

4) Antibody molecular screening has strong pertinence and low research cost.

5) The technique is highly versatile and can achieve cross-species adaptation.
ADC Platform
Mabwell's ADC Platform is established based on two third-generation antibody coupled drug technologies, namely bridged fixed-point coupling technology and dispersed fixed-point coupling technology. Two different coupling technologies have submitted patent applications for connexon. The coupling process is reliable and the coupling product is more uniform and better than the ADC developed by other bridging fixed-point technologies. Compared with other types of antibody-drug conjugates, it has better pharmacokinetics, pharmacological and toxicological characteristics.
IDDC™ is a next generation ADC site-specific conjugate technology platform independently developed by Mabwell. It is composed of multiple systematized core patent technologies including site-specific conjugate process DARfinity™, special designed linker IDconnect™, novel payload Mtoxin™, and conditional release structure LysOnly™, which improves structural homogeneity, quality stability, pharmacodynamics and tolerability of the ADC products.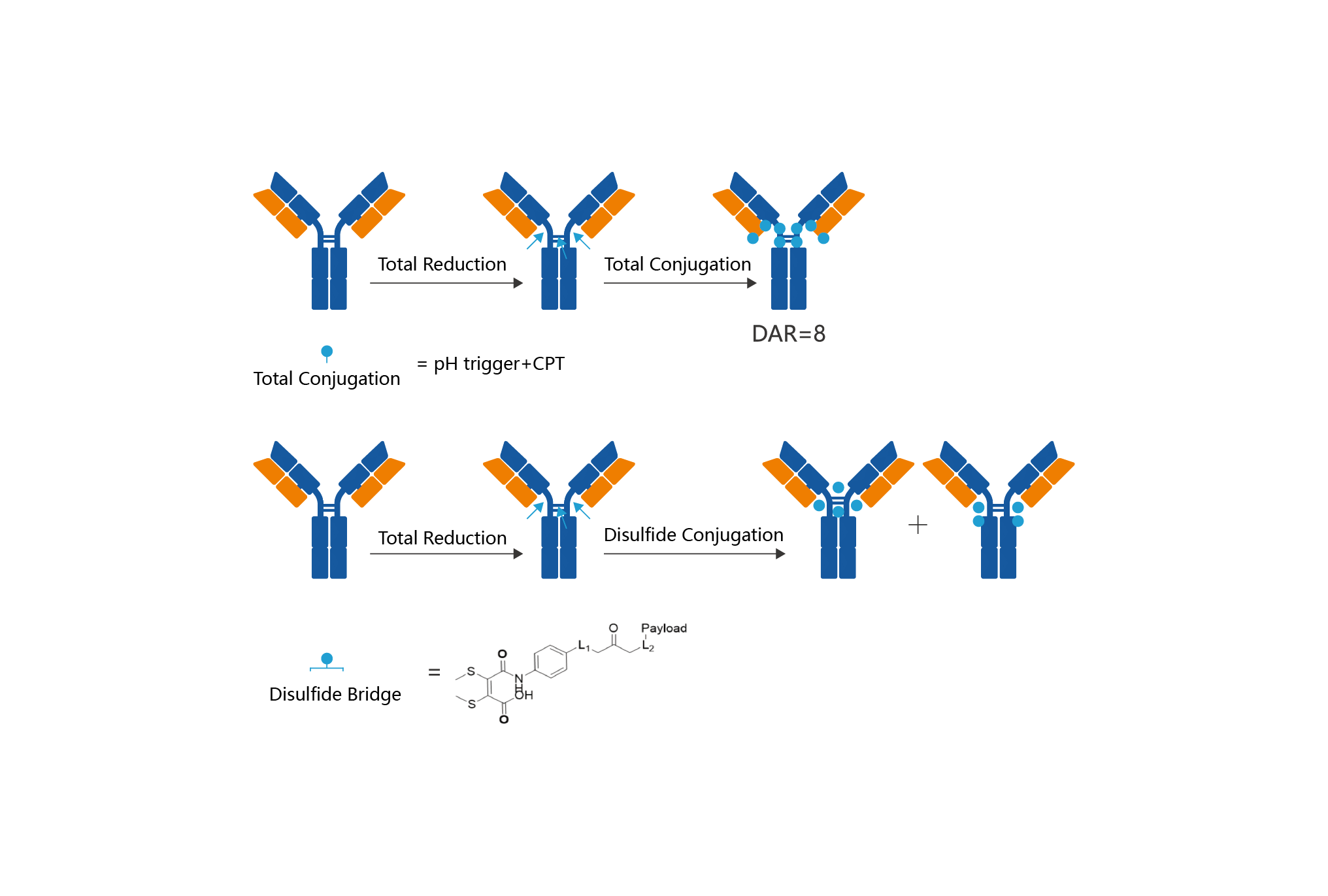 Advantages:
1) Two different coupling technologies can develop ADC drugs for different types of high activity small molecule drugs.

2) The two different coupling techniques are applicable to the common antibody IgG1, and the natural antibody sequence can be used directly.

3) The conjugates have excellent uniformity, simplified process, easy quality control, and can significantly expand the therapeutic window in the process of use.
Bispecific Antibody Platform
Mabwell's Bispecific Antibody Platform has three mature design schemes of Fc fusion protein like double antibodies in the form of common light chain, heterodimer structure and head tail structure, which can be optimized according to the characteristics of different double antibodies/proteins, The key common problems of engineering cell line screening, production process and quality control were solved, which laid a foundation for the comprehensive expansion of double antibody technology.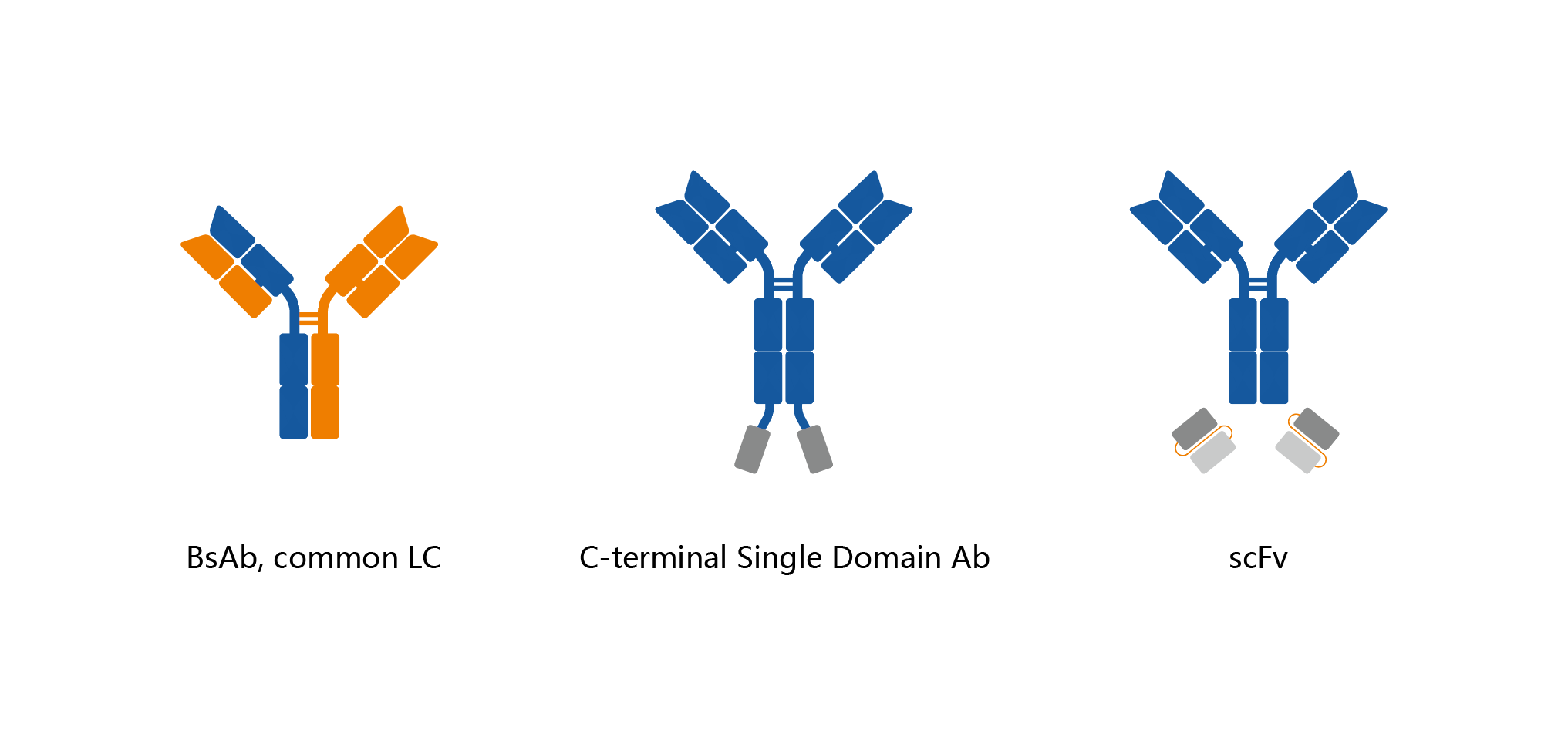 Advantages:
1) Differential design based on the molecular characteristics and functional requirements of the antibody reduces the difficulty of process development and quality control in the development stage and even the commercial production stage.

2) Take design as the source to solve the difficulties in process development, improve the stability of antibody molecules, improve the expression in the culture process.

3) Significantly reduce the production cost of bispecific/bifunctional antibodies, make the products more clinically accessible after commercialization.